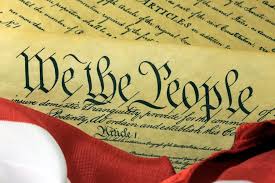 In order to overturn the Supreme Court decisions that have enabled big money to control our government, we need to pass a 28th Amendment to the Constitution which makes it clear that corporations do not have the same rights as people, that money is not the same as free speech and that improving the lives of "we, the people" is the purpose of our government. There have been many different versions drafted for the proposed Amendment. One of the leading candidates is the We the People Amendment put forth by Move to Amend.  This language was formally introduced into the 115th Congress in January 2017 as House Joint Resolution 48.  (See the summary below.) When it finally becomes possible to pass the Amendment, the language will need to be finalized.  There is strong agreement on the main content of the Amendment, and we do not believe there is a need to try to finalize the exact wording now.
To learn more about the need for a Constitutional Amendment, please review the information in the section How Did This Happen?
Summary: H.J.Res.48 — 115th Congress (2017-2018)
Constitutional Amendment
This joint resolution proposes a constitutional amendment providing that: (1) the rights protected by the Constitution are the rights of natural persons only; (2) artificial entities (such as corporations, limited liability companies, and other entities established by the laws of any state, the United States, or any foreign state) shall have no rights under the Constitution and are subject to regulation by the people, through federal, state, or local law; and (3) the privileges of such artificial entities shall not be construed to be inherent or inalienable.
The amendment requires federal, state, and local government to: (1) regulate, limit, or prohibit contributions and expenditures, including a candidate's own contributions and expenditures, to ensure that all citizens, regardless of their economic status, have access to the political process and that no person gains, as a result of that person's money, substantially more access or ability to influence the election of any candidate for public office or any ballot measure; and (2) require that any permissible contributions and expenditures be publicly disclosed. The judiciary is prohibited from construing the spending of money to influence elections to be speech under the First Amendment.