Tuesday, October 30, 2018, 7:00 – 9:00 pm
First Parish in Concord, 20 Lexington Rd, Concord, MA
Dark Money, a political thriller, examines one of the greatest present threats to American democracy: the influence of untraceable corporate money on our elections and elected officials.

Jeff Clements, President of American Promise, and the major force behind Massachusetts Ballot Question #2 which would help address these dark money issues, will introduce the film and lead a discussion about the ballot question. Question 2 would establish a nonpartisan Citizens Commission to address the disastrous effects of Citizens United.  Members of the Commission would work to advance a 28th Amendment to the U.S. Constitution— placing necessary limits on campaign spending and closing loopholes that let big money rig our elections.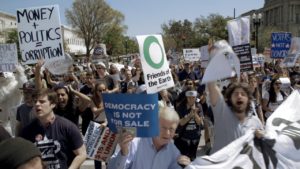 Play Dark Money Trailer
The film takes viewers to Montana—a frontline in the fight to preserve fair elections nationwide—to follow an intrepid local journalist working to expose the real-life impacts of the U.S. Supreme Court's Citizens United decision. Through this gripping story, Dark Money uncovers the shocking and vital truth of how American elections are bought and sold. Official Selection, 2018 Sundance Film Festival.
"Money in politics has never been more crucial or timely. Dark money contributions increased a stunning 60-fold in 2012 (the first election after Citizens United) and spending on 2018 campaigns has already far surpassed that of 2016 campaigns. I am excited that this film is premiering in the midst of the 2018 election cycle. I believe campaign spending is the most fundamental political issue of our time, and the film comes at a time when solving it is critical. I hope Dark Money will educate and inspire people to demand reform."
— Kimberly Reed, Director/Producer
This event is a collaboration with POV, the award-winning independent non-fiction film series on PBS www.pbs.org/pov